Mediation Attorneys in Cypress
Mediation Services in Cypress, TX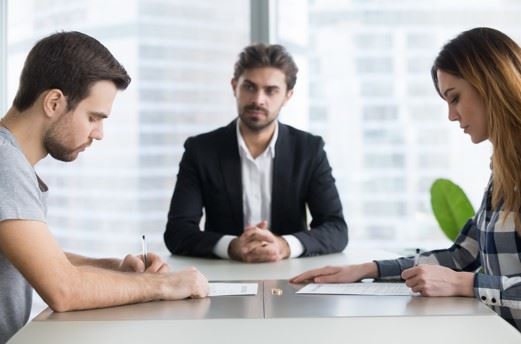 If you are looking for an alternative method to resolve a family law issue or civil matter, mediation might be for you. Mediation services tend to be less expensive and time consuming than litigation and allows both parties to move forward with their lives amicably. As mediation happens outside of court, everything that is discussed is kept private.
Hunt Law Firm offers affordable half-day, full-day, or multiple-day mediation sessions for all your needs. We proudly serve parties in Harris County, Fort Bend County, Waller County, and Austin County.
On This Page:
Contact us online today to learn more about our Cypress divorce mediation lawyers, or call (832) 781-0320today!
What Are the Benefits of Mediation?
Mediation attempts to negotiate a fair resolution to a dispute or issue guided by a neutral, third party called a mediator. Benefits of mediation are varied and can help you reach a resolution that is best suited to your needs and interests. Additional mediation benefits include:
It can help reduce costs:
Litigation can be costly and highly unpredictable. Mediation is generally less expensive than going to court.
It is confidential:
All court proceedings are matters of public record, whereas mediation sessions are kept confidential (unless specifically agreed upon otherwise by both parties).
It is voluntary:
Either party involved can withdraw from mediation at any time.
It is less time consuming:
As a dispute can be resolved as early as after one mediation session, this method is generally much faster than pursuing an agreement through the court system.
It is convenient:
You can arrange your mediation sessions whenever you wish at a location convenient to you. You can also arrange a videoconference mediation.
It provides additional support:
A mediator will have years of experience assisting individuals with dispute resolutions and can help with the emotional components of your case as well.
You have more control over the resolution:
Unlike litigation where a settlement might be imposed on you, mediation allows you to reach your own agreement. You can also speak your mind openly in a mediation session, which you might avoid doing in court due to intimidation or fear of swaying the judge a certain way.
How Long Does Mediation Take?
This depends on whatever amount of time is necessary for both parties to negotiate a fair agreement. Sometimes this means one or two sessions, but it could mean a few sessions over a period of months, depending on the complexity of the issues involved. Mediation is almost always a more time efficient and cost-effective resolution than going to court.
What to Expect in Mediation
Mediation takes place in a location of your choice. Both parties meet to discuss their issues in the presence of a mediator, or you can choose to speak privately with your mediator. After meeting with both of you – typically separately in family law matters – the mediator will assess the situation and determine potential solutions based on both conversations. He/she will then assist with the resolution phase of the session and figure out what is needed for everyone involved to contribute individually to reach a final solution. If any additional information and/or financial records are needed to get to this point, this will also be brought up so both parties can bring that material to their next mediation session.
How Long After Mediation is Divorce Final in Texas?
No one wants the divorce process to last longer than it has to. If you and your spouse started the mediation process or are considering divorce mediation, you may be wondering how soon after your split can be finalized. The divorce mediation process is speedier than litigation, so it generally takes considerably less time, which is why so many couples often gravitate to this option. That said, every case is different and the timeline will differ based on how easily you are able to resolve the key issues of your divorce.
After you and your spouse reach an agreement on property division, spousal support, child custody, and child support, you will have to present it to the judge overseeing your case. Even after you sign your mediation agreement, it must still be reviewed and approved before a judge finalizes your divorce.
Below is a list of some of elements a judge will pay close attention to when reviewing your agreement:
Does it seem like both spouses voluntarily agreed to sign the agreement?
Are the terms fair or do they seem to favor one spouse more than the other?
Do the terms comply with state divorce laws?
Was the divorce mediator biased toward one spouse?
A judge will closely examine a mediation agreement to determine:
If all the agreed-upon custody matters are in the best interests of the children
If the child support agreement is in compliance with state law
If a spouse received a substantial spousal support award or was deprived of the support they deserve
If the property division agreement makes sense and takes state law into consideration
Assuming everything is in order, the entire process can take an average of 3 to 6 months to complete, which is still faster than divorce litigation.
Consult with Our Cypress Mediation Lawyers to Learn More
Mediation is a popular form of alternative dispute resolution for many individuals looking to resolve their issues in a timely, cost-effective manner. If you are considering mediation, contact us today to learn more about our services. With all its benefits, mediation is worth a consideration – especially if you want to avoid a contested divorce.
To determine if mediation is right for you, contact us online or call our divorce mediation attorneys in Cypress directly at (281) 771-0422.
"I'll be recommending this amazing firm to everyone in the future."

- Rifath

"Right from the initial consultation meeting, to the final signing, the entire staff provided the needed support to accomplish our objectives."

- Kola

"Did exactly what we needed in a very professional way."

- Fran

"They are amazing at keeping their clients updated and being responsible with their clients' finances - I can't recommend them enough!"

- Kayla

"Yanine Krohn did a great job handling my case!"

- Scott
Skilled Litigators & Counselors at Law
What Else Makes Our Firm Unique?
Quick Response Time

You can almost always expect a call back in 24 hours, with most being returned the same day.

One on One Attention

You'll receive personalized attention from our small, boutique firm.

Compassionate & Honest

You'll get an attorney who is compassionate, receptive, and responsive to your needs.

Cost-Effective Firm

We use technology to reduce costs, including access to an online client portal.