Katy Child Support Lawyer
Compassionate Advocacy for Your Family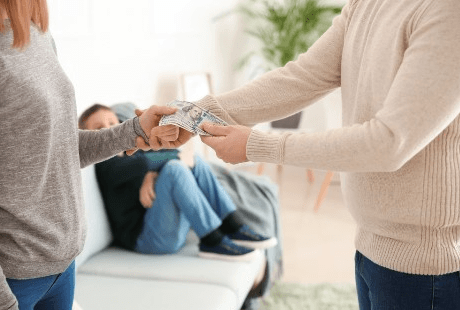 When a family is facing divorce, emotions can run high, and having to deal with complex legal issues only adds more stress and uncertainty to an already difficult situation. Hunt Law Firm provides ethical and responsive representation for children and families in the greater Houston area.
Our family law firm guides each client and his or her family with sound and responsive legal support from the beginning to the end of each case. Our Katy child support attorneys will listen to your situation and deliver honest, receptive counsel so you are aware of all aspects of your child support issue.
Hunt Law Firm represents clients in child support matters, including:
Creation of child support orders
On This Page:
If you need help navigating the child support process, reach out to our Katy child support attorneys today to discuss your situation.
Calculating Child Support in Texas
One of the most common questions parents ask when facing a divorce is "how much will child support be?" This is a sensitive consideration that needs to ensure the well-being of all the involved children and, in Texas, there are specific calculations the court will use to determine appropriate child support payments. Below, we take a closer look at these formulas and the special considerations that sometimes apply in these determinations.
What is the New Child Support Law in Texas?
In Texas, the new support payments laws are as follows:
For one child, support is 15% of net income;
For two children, 20%;
For three children, 25%;
For four children, 30%
For five or more children, 35%.
Texas' Child Support Formula
The two main elements in the Texas child support formula are the net monthly income of the providing parent and the number of children being supported.
How is Net Monthly Income Calculated?
Net monthly income, or "net resources," is usually determined by taking the parent's gross annual income and then subtracting the necessary taxes and expenses (including health insurance if the involved children are covered under it). The income includes the vast majority of income types - from standard employment income to rental income to most disability benefits - income received by the payor is typically included for child support purposes unless it is expressly excluded by law.
There are very few types of income excluded and the main forms are:
SSI benefits
Non-service connected VA disability benefits
TANF
Stipends received for providing foster care.
So, if the payor's income does not fall into one of the excluded categories, it will be included in the calculation of their net resources for child support purposes.
It is important to note that the Attorney General of Texas publishes tax charts each year that helps determine the net monthly resources of the obligor parent.
Child Support Income Percentages
Once the net monthly income is determined, a certain percentage of that income will be ordered as child support. This percentage is dependent on how many children the parent will support.
The following percentages apply to Texas child support calculations:
One child - 20 percent of net monthly income
Two children - 25 percent of net monthly income
Three children - 30 percent of net monthly income
Four children - 35 percent of net monthly income
Five children and up - at least 40 percent of the net monthly income
Special Considerations
There are a few special considerations that may not apply to every divorce case but can still have a significant effect on a child support calculation. First, it's important to understand that there's an income cap on these calculations: only up to $9,200 of a parent's net monthly income can be used for these calculations.
The court will also take into consideration any pre-existing child support orders the providing parent may be under. If the parent is already providing child support to other children from another marriage or relationship, the court may lower the percentage of the net monthly income ordered in the new child support order.
Finally, it is important to note that while these guidelines apply to most child support situations, the court can adjust the amount if it would be in the child's best interest because the child has needs above the guideline amounts.
Can I Get Back Child Support?
Retroactive child support, also known as "back child support," can be ordered when the parents have separated and the non-custodial parent did not financially support the custodial parent and the child in the months between the separation and the date the court makes the first order in the custody case or divorce.
Typically, we must prove that the payor knew about the child and still failed to provide financially. In some cases, the judge will even order the payor to reimburse the other parent for pre- and post-natal medical expenses if the payor was not financially supporting the other parent during the pregnancy.
How Do I Get the Other Side's Income Information?
Once a divorce involving children or a custody case begins, both sides are required to exchange paystubs, W-2 forms, tax returns, and bank statements. This rule allows both sides to operate from the same set of information and helps eliminate some of the most common issues that come up in cases like this.
If a parent is attempting to hide income in order to lower their child support amount, we have several tools available to us. The most common tool used is the Discovery process. This process allows us to obtain information and documents from the other side as well as directly from their employer or bank. It is becoming increasingly common for people to exclusively or primarily use payment apps like CashApp or Venmo or even cryptocurrency to conduct transactions and receive payments. So, Discovery allows us to obtain documentation from various sources to help establish the payor's true financial situation so that we can get the child support set at the proper amount for our client's children.
Contact Hunt Law Firm to Discuss Your Situation
The goal at Hunt Law Firm is to help families like yours focus on what is most important—the well-being of your child. Our attorneys can help you complete and file all necessary paperwork to start or modify child support. We handle every single case with a responsive attention to detail. Because Hunt Law Firm is smaller, we are able to provide each client with personalized attention. Our clients can always expect receptive counsel, compassionate advocacy, and affordable fees.
---
Contact the firm today at

(832) 781-0320

to learn more about our child support services or to schedule an appointment.
---
Recommended Reading
"I'll be recommending this amazing firm to everyone in the future."

- Rifath

"I would give them my highest recommendation."

- Crystal

"Professionally Personable"

- Arnold
Skilled Litigators & Counselors at Law
What Else Makes Our Firm Unique?
Quick Response Time

You can almost always expect a call back in 24 hours, with most being returned the same day.

One on One Attention

You'll receive personalized attention from our small, boutique firm.

Compassionate & Honest

You'll get an attorney who is compassionate, receptive, and responsive to your needs.

Cost-Effective Firm

We use technology to reduce costs, including access to an online client portal.